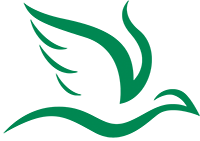 Overview & History
Evergreen Burial Park, the foundational property of today's Evergreen Memorial Trust, was established in Roanoke County in 1916. Roanoke City later annexed that portion of the county and developed the land around the cemetery. Evergreen's popularity was established from the start. The cemetery expanded from in-ground burial, to include private and public mausoleum entombment. When the Fern Cliff Abby Mausoleum neared its capacity, Evergreen constructed the Chapel of Light, which includes an attractive interior space for services, as well as interior and exterior entombment crypts and niches.
In 1984, the proprietors of Evergreen Development Company, Inc. acquired Mountain View Memorial Park in Boones Mill, Virginia, in adjacent Franklin County. In 2012, a portion of this property was set aside and platted as Forest Rest Natural Cemetery, the only "green" cemetery in the surrounding region.
In 2009, Evergreen acquired Green Hill Mausoleum in Rockbridge County, north of Roanoke, located in the Green Hill Cemetery operated by the City of Buena Vista.
In November, 2012, Mountain View Cemetery in Vinton, Virginia, just east of Roanoke, joined the Evergreen family.
With the addition of its new properties, Evergreen Development Corporation adopted the name Evergreen Memorial Trust to help the public identify its various locations as part of the same established and trusted providers of afterlife care.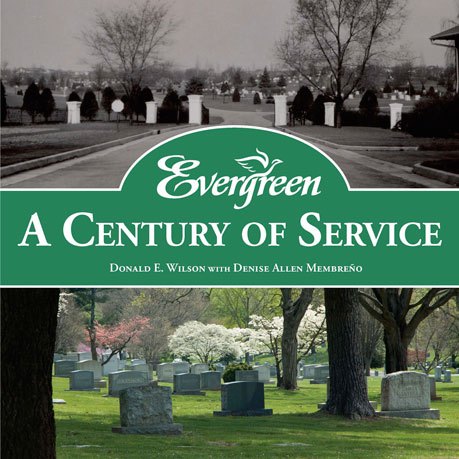 Evergreen: A Century of Service is a story about Roanoke and the people who created our local, regional, national, and yes, even world history. It is a story that spans more than 100 years when you consider the lifespans of the history makers. So as you read this book and peruse the antique photographic images, we hope that you will find it to be a tribute to the history of Evergreen Burial Park and that of Roanoke, Virginia. And a tribute to the prominent business owners, the men who founded Evergreen Development Company, the men and women who grew the business, and in the process, shaped Roanoke as we know it today.
Order your copy: Call 800-870-2593
Get your copy at any Evergreen location!
Welcome to Evergreen Memorial Trust
Thank you for visiting Evergreen Memorial Trust. An Evergreen property is the premier choice as a final resting place for families in all the communities where we serve. For over a century our caring staff has provided excellence in personal service and meticulous perpetual care in well-kept, park-like settings. These are the hallmarks at every Evergreen Memorial Trust location. Dedication to these values has earned us widespread public recognition, respect, and, above all, trust. Today and tomorrow, as for the past 100 years, our continuing emphasis is on maintaining the highest standards of professionalism. Our commitment is to provide you and your loved ones with everlasting care.
Now, there is something new, besides traditional burial in the ground, and being cremated does not necessarily mean sitting in an urn on a shelf. With a biodegradable urn from Evergreen Memorial Trust, there really is life—after life. Now, you can be a tree.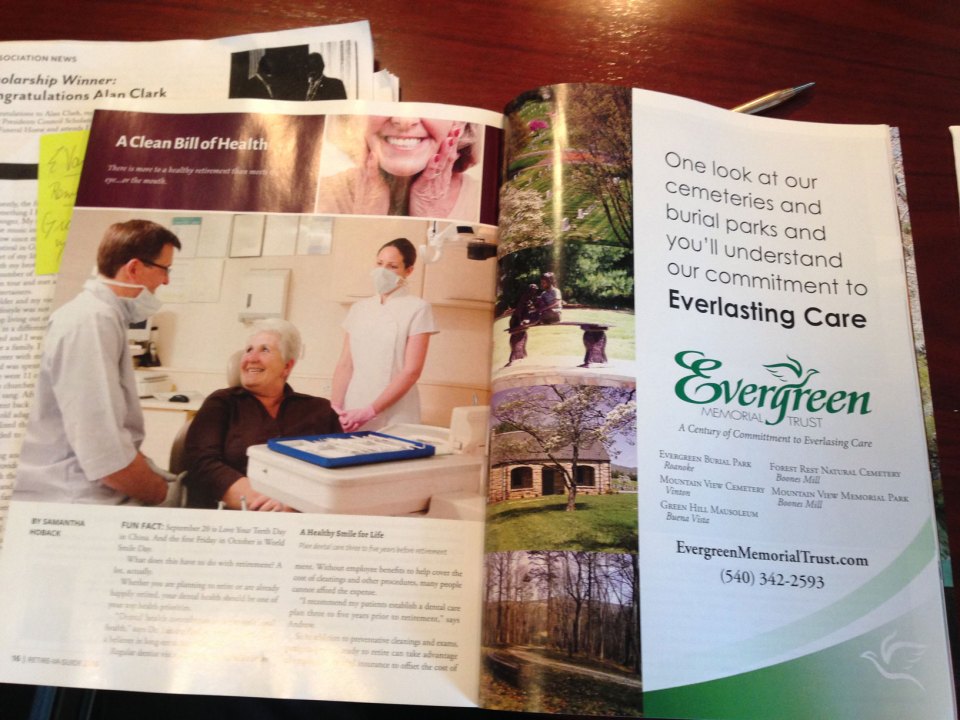 Call for a FREE Comprehensive Advance Planning Book 540-342-2593
This free brochure will provide pertinent answers to virtually all the questions your family will need about your vital information and preferences. We'll deliver this comprehensive, confidential portfolio to you with no obligation. It's a wonderful gift you can give your loved ones that will be so helpful during a difficult time. It's a complimentary pro-active service that Evergreen is pleased to offer for your thoughtful end-of-life planning.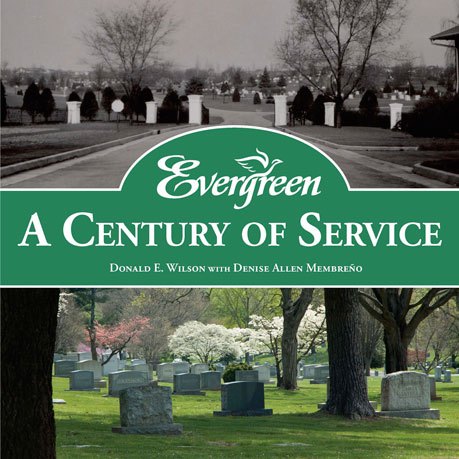 Click here to get the full story
Please visit each property's site link for a complete description of their location and services.