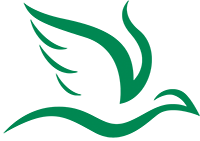 In the News
Forest Rest Natural Cemetery becomes certified as only hybrid cemetery in Virginia
Boones Mill - A southwest Virginia cemetery offers options for everyone when it comes to their final resting place. Forest Rest Cemetery was recently certified as the only natural burial cemetery in Virginia.
Green Hill Mausoleum:
First "Be A Tree" site in Virginia
In Buena Vista, the Green Hill Mausoleum, owned by Evergreen Memorial, is the very first site in Virginia where someone is becoming a tree. Ellen Rae Houston was not from Buena Vista, and she had no connections with the area. However, on April 28th, 2018, her ashes were planted on a beautiful slope in front of the mausoleum. Houston's family had found Green Hill online and loved the remarkable view of the Blue Ridge Mountains.
Flag Day ceremony sees 60 flags retired
"The Franklin News-Post  (Franklin County, VA)", 2018-06-20
By Mary Kay White
Boones Mill – Mountain View Memorial Park held a flag retirement ceremony on Saturday morning during which nearly 60 American flags were officially retired and properly disposed of by Boones Mill Boy Scout Troop 129.
Eight scouts and several troop leaders participated in the event, during which the scouts adhered to U.S. flag code by removing the flags' "field of blue" before carefully folding and then burning the damaged flags.
U.S. flag code states that once a flag is worn and damaged, it must be completely burned beyond recognition.
The ashes from the burned flags were then gathered and buried in Mountain View Memorial Park.
"Our troop is committed to teaching our boys respect for both our flag and our servicemen and women who have fought in any of our wars," troop leader Terry Bridges said. "We saw this as a service to our community and a way to teach our boys about respect."
Attendees at the event were given stars cut out from the damaged flags and asked to place them in the fire in remembrance of loved ones lost while serving.
Dena Custer, receptionist at Mountain View Memorial Park and one of the organizers of the event, said that it was the park's high volume of American flags on veterans' graves that inspired the ceremony.
"We know that the flags need to be handled according to flag etiquette and there aren't many places to do that," Custer said. "We use a lot of flags here so we feel like, over time, as they're worn, we want to make sure they're disposed of properly."
The park will accept anyone's damaged flags at any point in the year and dispose of them in the annual Flag Day ceremony.
Holley Insurance will also accept faded flags at their office on Franklin Street at any time, and even gave away 74 new American flags in the week leading up to this year's Flag Day.
Honoring and Retiring the Flag
Boones Mill – June 14th marks the 241st birthday of Old Glory, the world's prominent symbol of freedom and independence. Flag Day, first established by Bernard Cigrand in 1885, is marked by displaying the American flag in homes and public buildings, flag-raising ceremonies, parades, and other public celebrations.
Mountain View Memorial Park will host a flag retirement ceremony and car show to honor Flag Day on Saturday, June 16th. At 11:00 a.m., the ceremony will be conducted by Boy Scout Troop 129 from Boones Mill, led by Terry Bridges. As part of the celebration, a flag collection box is in place at the entrance to the park in front of the office. Individuals can place deteriorated flags in the box, which will be properly disposed of by a flag burning ceremony according to flag etiquette. Flags can be deposited at any time leading up to the ceremony. The burning will take place near the entrance to Forest Rest Natural Cemetery. The car show will begin at 9:00 am and will be hosted by Outlaw Cruisers of Rocky Mount.
Mountain View Memorial Park is located outside of Boones Mill in Franklin County at 5970 Grassy Hill Road.
For more information please contact
Dena Custer, Mountain View Memorial Park
540-334-5410
Going Green
"Roanoke Times (Roanoke, VA)", 2013-11-24
Green burial options at Forest Rest include a biodegradable wicker-and-seagrass coffin and a linen burial shroud. Or the decedent can simply leave the living in the same condition in which the living were joined – naked as a jaybird.
Family members can ask that the grave be dug by hand, an alternative that avoids firing up fossil fuel-burning excavation equipment. And the family can help backfill the grave.
Forest Rest Natural Cemetery's five wooded acres in Franklin County adjoin the conventional Mountain View Memorial Park off Grassy Hill Road. To date, surveying has established about 300 saleable burial spaces in Forest Rest, which opened last year. Ten have been sold. No one has been buried there yet.
For aging baby boomers who practice the principles of green living, a natural burial offers a chance for eco-friendly dying. And it provides an opportunity to embrace one last and ultimate act of recycling, according to the Green Burial Council, a nonprofit organization based in California.
The phrase "green living" refers to lifestyle and business choices that reduce the effects and costs of living, working and operating in a world of dwindling resources, rising energy costs and environmental perils.
Joe Sehee co-founded the Green Burial Council in 2005.
"I think Americans are finding less and less value in practices and products like embalming, concrete burial vaults and elaborate caskets, which explains why people have been drawn to green burial as well as to cremation," Sehee wrote in an email.
Don Wilson is president of Roanoke-based Evergreen Memorial Trust, which manages Evergreen Burial Park, Mountain View Memorial Park, Forest Rest Natural Cemetery, Mountain View Cemetery in Vinton and the Green Hill Mausoleum in Buena Vista.
He said Evergreen Memorial Trust decided to develop Forest Rest after fielding inquiries about the availability regionally of natural burials.
"We realized that baby boomers want to do things differently than their parents and grandparents did," Wilson said.
The same generation that launched Earth Day has begun considering how to leave life in an environmentally friendly way, he said.
Back to the earth
Like other natural cemeteries, Forest Rest forbids the use of burial vaults and chemical embalming. Its options for identifying grave spaces include tombstone-shaped markers made of cedar or inscribed native stone.
In conventional cemeteries, burial vaults help prevent the ground from settling as a casket and the body inside it decay. At Forest Rest, the dirt removed during excavation is piled in a mound atop the grave to help keep the space level as decay proceeds.
Lewis and Julia Woodford of Roanoke County, both in their late 70s, purchased two grave spaces at Forest Rest this spring. The Woodfords said they began looking several years ago for a natural burial cemetery and a friend told them about Forest Rest.
"We were looking for an alternative that was simple, ecologically sound and without fanfare," Julia Woodford said.
Each will be buried in a simple, biodegradable casket.
"The idea is to go back to the earth," she said.
Lewis Woodford said the couple long ago adopted practices now described as "green" that are tied to frugality, reuse, recycling and conservation.
"We're doing things today that we did 50 years ago," he said.
The Woodfords said their child, a grown daughter, supports their choice.
The National Funeral Directors Association offers members information about green funerals and predicts: "Eventually, you may be asked to explain or to offer 'green' funeral choices for some of the families in the communities you serve."
The association suggests that "green funeral choices are expected to grow in popularity in the U.S." And it advises that if a family wants to preserve a body for viewing, the alternatives to formaldehyde embalming include refrigeration and dry ice.
Sammy Oakey is president of family owned Oakey's Funeral Service and Crematory, which traces its local roots to 1866. He said few people have inquired to date about green funerals and burials and that, aside from offering some green caskets, Oakey's has not yet established pricing for what might be a green funeral.
"I think a lot of people don't know about it yet," Oakey said.
Oakey's sells an eco-friendly wicker-and-seagrass casket for $2,095. Caskets available through Oakey's range in price from $630 to $9,512.
Kenneth Kyger of Kyger Funeral Homes and Crematory in Harrisonburg and Elkton is president of the Duck Run Natural Cemetery in Penn Laird, about 5 miles east of Harrisonburg.
Duck Run, licensed in 2012, occupies part of a former dairy farm. Kyger said that about 600 grave spaces have been laid out. Duck Run, like Forest Rest, has sold some spaces. Kyger declined to say how many. No one has been buried to date.
"We have scattered cremains out there and we have buried cremains out there but we haven't buried a natural body yet," Kyger said.
He said cremation took a while to become accepted as an alternative to conventional burial. He believes green burial will follow suit.
"It's a new concept," Kyger said – but based, he said, on the ancient concept of in-ground burial of bodies in biodegradable coffins and garments.
"It's actually come full circle," he said.
Interest in green burial practices is increasing and people from out of state have inquired about Duck Run, Kyger said.
"Natural burial offers a very peaceful way to go," he said.
Cost savings vary
Green burials are typically cheaper than conventional burials that feature concrete vaults, fancy caskets, chemical embalming and more.
"Compared to conventional burial, there are some obvious cost savings from green burial but it will never be as inexpensive as 'direct cremation' (cremation without a funeral)," Sehee said.
Oakey said the cost of a conventional funeral package available through Oakey's can range from about $5,035 to about $16,000. Direct cremation at Oakey's ranges from about $1,990 to about $5,023.
Cremation can be more environmentally friendly than a conventional burial but is not without impacts. Cremation burns nonrenewable fossil fuels, releases carbon dioxide and can also emit mercury when the person being cremated has dental amalgam fillings, according to the Green Burial Council.
The council has established a set of standards for natural burial and a certification program for cemeteries that meet those standards.
Sehee confirmed that the Duck Run Natural Cemetery was the first council-certified cemetery in Virginia.
Wilson said Forest Rest has completed the environmental impact statement required for Green Burial Council certification and is working to finalize a related plan for integrated pest management.
Ed Leonard, chief sustainability officer for the Holy Cross Abbey near Berryville, said he works to develop sustainable businesses that can help support the abbey and its Trappist monks.
The abbey developed the Cool Spring Natural Cemetery in 2012 on about 70 acres of the monastery's 1,200 acres. Leonard said about 50 spaces have sold and the cemetery has buried 15 people to date. The spaces overlook the Shenandoah River and Blue Ridge Mountains, he said.
A "Blue Ridge Meadow" grave site at Cool Spring sells for $5,750, a price that does not include digging and backfilling the grave. He said the beauty of the site, the confidence buyers have in the monastery's ongoing stewardship of the property and the spiritual ambiance of the location seem to appeal to buyers.
The Forest Rest grave spaces sell for $1,500 if the cemetery selects the client's space and $2,000 if the space is chosen by the client. Pricing does not include digging and backfilling the grave, which adds $1,500 if machine dug or $2,000 if hand dug.
A burial space at Duck Run sells for $2,500. Opening and closing the grave adds $750.
Evergreen Memorial Trust has advertised Forest Rest in the Blue Ridge Edition of "Natural Awakenings" magazine. The ad describes Forest Rest as "a new natural cemetery for those wishing to leave a smaller and greener footprint when they pass." Forest Rest has a website and a Facebook page, Wilson said, and most recently occupied a booth at the Green Living & Energy Expo at the Roanoke Civic Center.
Lewis Woodford said natural burial makes sense on a fundamental level.
"We come from the earth. We are of the earth. And we will go back to the earth," he said.
Franklin Co. Cemetery Goes 'Green'
by Jason Dunovant, Smith Mountain Eagle
There has been a growing trend in the last few years to simplify the burial process. As part of that trend, many cemeteries are beginning to offer a new, greener, option for those searching for their final resting place.
The Evergreen Memorial Trust dedicated the Forest Rest Natural Cemetery in Franklin County this past year. The natural cemetery is located adjacent to Mountain View Memorial Park in Boones Mill. It offers a different option for those who may not be interested in the modern burial process.
Forest Rest Natural Cemetery does away with many of the aspects of most modern cemeteries. Gone are elaborate caskets, expensive burial vaults, and large stone grave markers. Instead, Forest Rest provides a simple burial much like the ones performed over 150 years ago.
"There has been a resurgence of interest in going back to the way things used to be," Evergreen Memorial Trust President Don Wilson said.
Those choosing to be buried at Forest Rest are given the option of natural, easily biodegradable caskets made of pine, wicker, or sea grass. There is even the option of using only a linen shroud.
Embalming is also optional. And when embalming is done, only natural and biodegradable embalming fluids may be used.
Grave markers are also small and unobtrusive. Cedar markers can be used as well as small stones with a person's name and birth and death date etched on top.
Unlike most cemeteries, families are also encouraged to plant native trees as a memorial at the gravesite. This can help to give a more personal touch to a burial.
Wilson has been surprised by the interest in the natural cemetery since it was first introduced last year. He has noticed that many people are very receptive to the concept of a natural cemetery. Many people these days do not want the usual elaborate funeral.
"We've been getting a lot of calls and inquiries since it was dedicated this past year," Wilson said.
In addition to being a more environmentally friendly option, it is also a much cheaper option. The cost can be half of the normal burial costs that can be as much as $6,000, according to Wilson. Funeral home costs can also be reduced if no embalming is done.
Besides the cost, the look of Forest Rest Natural Cemetery is unlike any average cemetery. The natural cemetery is located on five acres of beautiful forest. The site is left mostly undisturbed except for the occasional marker where future graves will be placed.
Those buried at Forest Rest would seem to truly go back to nature. In a few months time, the only evidence that a grave is there is the simple grave marker.
Anyone interested in more information on Forest Rest Natural Cemetery can visit their website at ForestRestNaturalCemetery.com or contact them at 540-334-5410.
Memorial Day Observance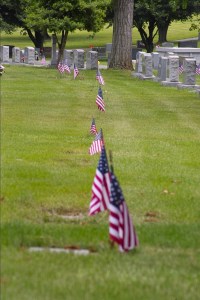 In observance of Memorial Day, members of VFW Post 1264 will place flags on the graves of veterans in Evergreen Burial Park beginning at 9:00 a.m. Thursday May 25, 2012. The cadets of the Patrick Henry High School ROTC under the command of Lieutenant Colonel Steven Boyd will assist, weather permitting.
An estimated 4000 veterans are buried at Evergreen, including Russell William "Jack" Ingram and Rudy Obenchain who were killed on D-Day and Andre Portevin Fallwell who penned "Lest We Forget," the poem engraved on the Veterans Memorial in Lee Plaza.
Evergreen Burial Park is located between the Wasena and Raleigh Court neighborhoods in southwest Roanoke City.
For further information contact Donald E. Wilson.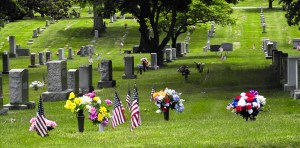 Evergreen Trust Purchases Vinton's Mountain View Cemetery
Vinton – Hilda Basham, president and owner of Vinton's Mountain View Cemetery Co., Inc., with daughter Sandra Feazell at her side, retired from the family business with the stroke of a pen, turning her landmark Vinton property over to the owners of Roanoke's Evergreen Burial Park. Donald Wilson, president of Evergreen Development Co., Inc., signed for the new owners.
The acquisition of the 30-acre Vinton cemetery expands Evergreen's already substantial presence in the region. In addition to its premier property, the 54-acre Evergreen Burial Park in Roanoke, the company has in recent years, under Wilson's guidance, expanded to purchase cemeteries and mausoleums in Boones Mill and Buena Vista. The company recently adopted "Evergreen Memorial Trust" as the operating name embracing all company properties.
"I am particularly gratified," noted Mrs. Basham, "the family-oriented service we've provided families will continue under Evergreen, which has its own recognized tradition of warm, personal care." She added, "Evergreen's high level of respect and professionalism in our industry was certainly a compelling and comforting factor in passing our business on to them."
Mountain View, established in the late 1890s as Vinton Burial Park, currently has some 18,000 interments. Evergreen Burial Park was established in 1916 and currently has 24,000 interments. Both locations have substantial available spaces.
Mr. Wilson indicated Evergreen plans to invest in a number of improvements at Mountain View, including new landscaping and perimeter fencing. Additionally, Wilson noted Mountain View will become a full-service burial park, offering new service options and complete cemetery arrangements, as well as sales of burial vaults and granite monuments and markers. Mountain View also offers a section for burial of and memorializing owners' pets.
In addition to Evergreen Burial Park and Mountain View Cemetery, Evergreen Memorial Trust owns and operates Mountain View Memorial Park in Boones Mill and the Green Hill Mausoleum in Buena Vista. The Boones Mill location also includes Forest Rest, the only natural burial grounds in the extended region. Natural or "green" burials appeal to environmentally conscious individuals who prefer simpler final arrangements that eliminate embalming, vaults, non-biodegradable coffins and elaborate markers or monuments.
Evergreen Burial Park Walking Tour
Bringing Roanoke's Past to Life
ROANOKE – Mayors, governors, industry magnates, heroes and heroines – their stories come alive at Roanoke's Evergreen Burial Park Sunday, October 14th, where many of the area's noted leaders and historical figures rest. Their stories – which are those of much of modern Virginia, Roanoke and America – unfold in an annual guided public walking tour of Evergreen's peaceful, landscaped acres.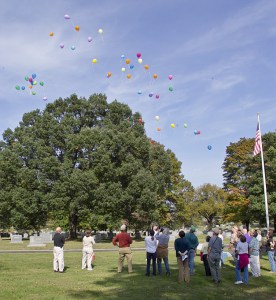 Among the notables whose lives and contributions will be recalled include: Governor (1958-1962) J. Lindsay Almond, an early advocate of school desegregation; Martha Anne Woodrum Zillhardt, Virginia's first instrument-rated female aviator, founder of Woodrum Flying Service, and the first woman president of the Virginia Aviation Trade Council; Carter Burgess, one of many distinguished veterans interred at Evergreen, served as Secretary of the General Staff to European Commander Dwight Eisenhower; and Sallie Weaver Robertson, who, at her death at the age of 95 in 1937, was one of the last members of the Real Daughters of 1812, a group dedicated to promoting patriotism. Other memorials recognize significant events in national history. Evergreen is also home to the North America Champion Red Buckeye tree.
The family-friendly tour is open to all who enjoy a pleasant Sunday stroll, highlighted by informative insights about people who left indelible marks on Roanoke and Virginia history. The tour will begin at 2p.m. at the cemetery office at 1307 Summit Avenue SW, in Roanoke's Raleigh Court/Wasena section. At the end of the tour, walkers will be invited to participate in a "spirit" release of multi-colored, helium-filled balloons.
Light refreshments will be served.